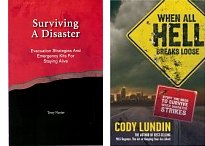 Two of my favorite survival instructors and authors have new books out, both dealing with the timely subject of disaster preparedness. The two books compliment each other nicely, each focuses on a different element of the preparedness solution.
In "Surviving A Disaster – Evacuation Strategies and Emergency Kits for Staying Alive" Tony Nester (Ancient Pathways) addresses the issue of preparing to "bug out" if necessary. Tony spent a good deal of time interviewing those who have lived through recent disasters and reaped the lessons learned that are incorporated in his recommendations. His spare, concise and succinct style stuffs a lot of useful information into this compact book. It's all meat, no fluff.
Tony's focus is on preparing to evacuate in case a disaster hits, or is threatened, and you must leave home. If you are prepared to leave in a hurry, you are also just about prepared to stay if it becomes a shelter in place situation, which he also touches on.
The suggestions and gear and supply lists Tony provides are totally practical, and for the most part, not expensive or difficult. He's essentially prepared you an easy to follow, concise road map to disaster preparedness for you and your family. Get this book, do what it says and you'll be prepared–and way ahead of 99% of your neighbors. When disaster strikes, you'll be out the door with your emergency supplies and belongings in 15 minutes while everyone else is in a panic.
In "When All Hell Breaks Loose – Stuff You Need to Survive When Disaster Strikes" Cody Lundin (Aboriginal Living Skills School) focuses primarily on how to prepare to survive a disaster while staying in your own home in your own community, what is technically referred to as "sheltering in place." That isn't necessarily clear from the title or the summary, however. Oftentimes when disaster strikes the only solution is to get the hell out of there. While Cody touches on the subject of evacuation, there's very little on "bugging out" here (though much of the gear and supplies information is equally applicable whether you stay or leave).
Cody once again uses occasionally irreverent language and a touch of humor to make his points. It's generally entertaining reading, which is a good start when you've got 449 pages to get through.
Cody does provide a lot of practical information on how to economically prepare you and your family to survive on their own for a period of time while the government and community come to grips with the disaster. This is not a concise preparedness manual, but Cody's summary at the end of each chapter severs as a sort of Cliff Notes.
As I mentioned at the start, these books compliment each other. One is not better than the other; start your new year off right and get both. You'll be far better prepared for whatever disaster comes your way, whether it's a matter of sheltering in place or getting the hell out of Dodge.