I don't care if you have been naughty or nice, 'tis the season for me to make a list of everything from stocking stuffers to ultimate gifts that would make anyone who enjoys the outdoors smile.
I know, you are thinking this is just about me and my Doug Ritter Gear, but read on; there is more than just my gear, these are just great gifts for your favorite outdoor enthusiast, hunter, pilot, hiker or someone who loves "great gear." This is gear that I would "bet my life on." Much of this follows my mantra of "if it isn't with you, it can't save you™." Any of it will earn you big smiles.
Stocking Stuffers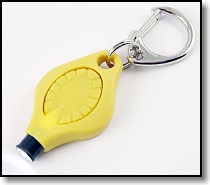 There's no excuse not to always have a flashlight with you with the proliferation of compact LED flashlights. My Doug Ritter Special Edition Photon Freedom Micro-Light is available again and at a reduced price, only $15.95. It has a great feature set and will hardly be noticeable on a key chain, so it will always be there when you need it.
I am also a big fan of headlamps because they allow you to have both hands free to do whatever needs doing. There is no shortage of good headlamps out there, but Princeton Tec has a unique and fun offering that may be worth taking a look at. Over at Princeton Tec's Spectrum program you can customize a Fuel headlamp with your choice of body colors. When they introduced this service to journalists earlier this year, I did up one with a bright yellow body and red end caps. The Fuel is a nice mid-range headlamp that runs on AAA batteries. Their Remix (not customizable at this time) is a similar design that adds a high output 100 lumen LED.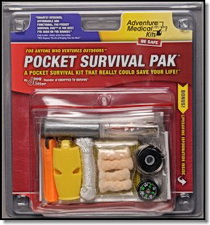 For a compact survival headlamp, having a switch that cannot readily be inadvertently switched on in storage, the Petzl e+Lite is a great choice with multiple light output options, plus a red LED, and the eGear EQ2 is a minimalist single LED design that is ultralight and compact, if more basic (and less expensive).
The original best-selling Pocket Survival Pak™ I designed is still going strong and is still a perfect gift for anyone who is active in the outdoors. All the essentials in a compact waterproof pouch that weighs under 4 oz., truly does fit in a pocket and really could save yourself, a loved one or friend's life. This is the epitome of "if it isn't with you, it can't save you™" gear and this kit is sized right to always be with you.
Add an Adventure Medical Kits Two Person SOL Survival Blanket (which is really sized just right for one-person), and you've got a perfect pocket-sized shelter companion to the PSP. The polyethylene material is far superior to old-style Mylar emergency blankets.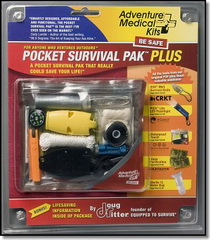 I always carry at least two, and usually three, means to start a fire. It is really that important. Besides a compact lighter, reliable matches are a good choice. For many years I have recommended REI's Stormproof wind- and waterproof matches. Now these same reliable matches are available more widely under the UCO brand and, even better, they are now also available pre-packaged in a waterproof vial, so that you can be confident that the striker strip, which is not waterproof itself, will be dry as well. These are the matches I include in my Ultimate Survival Pak™.
Last year we introduced the Pocket Survival Pak™ PLUS, which adds a number of other useful items (compact RSK® Mk5 knife, LED flashlight, water purification and water bag), to the PSP to further enhance a survivor's prospects. The upgraded waterproof pouch is even tougher and it still fits in your pocket.

Sharp Stuff
This is a great time to get a Doug Ritter RSK® knife with virtually all models and variations in stock and KnifeWorks.com offering FREE GROUND SHIPPING in the USA on all the RSK® knives (except the Mk5)! You will also receive a FREE Maxpedition Waterproof Pocket Notebook ($5.50 value) with each order (while supplies last).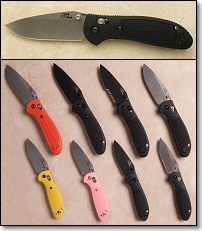 My acclaimed RSK® Mk1 and Mini-RSK® Mk1 Axis Lock folders are still going strong, more popular than ever, which is gratifying.
"Using this knife is a joy, and I can't really find anything I dislike about it. It's a tough choice now on whether to carry this, or much more expensive custom folders." – T. Young – Simi Valley, CA
We just got in the first run of the orange-handled Mini-RSK® Mk1s, matching the orange RSK® Mk1 we've offered for a few years now. The Mini is now available in Black, Yellow, Orange and Pink. When you purchase a Pink Mini, 10% of the purchase price supports women's cancer research.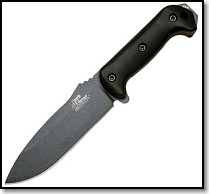 The second run of my RSK® Mk2 Perseverance fixed blade with Variable Personal Balance™ is now available and is getting rave reviews. Here's what Tactical Knives had to say:
"a well-balanced combination of Ritter's thoughts on portability, balance and control, and (Ethan) Becker's beliefs on power, strength and durability to withstand the abuse knives often suffer…" and "…the RSK Mk2 can give the user the edge needed to persevere and overcome even the harshest of environments."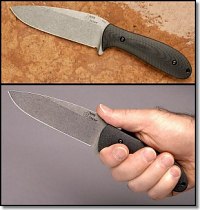 My RSK® Mk3 fixed blade is again available, now with an improved sheath. Its versatile drop point blade in CPM S30V and sculpted ergonomic G10 handles combine to make it a perfect choice for many, be they hunters or those looking for a quality and lightweight fixed blade for outdoor sports or survival.
"…more than strong enough to handle any requirement…handled very well and showed no sign of weakness in strength or materials…" – Terrill Hoffman in Tactical Knives. "Long story short, I love the knife! …G-10 scales, with S30V steel, full tang construction, stone washed finished without having to pay custom prices $$$$$…!" - TJ – Denver, CO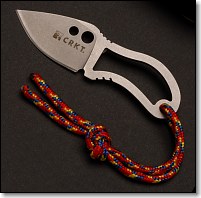 If a very compact knife to fit in a survival kit is what you are looking for, I suggest you consider my RSK® Mk5 skeletonized fixed blade. This diminutive knife will perform many a chore and was designed originally for my Pocket Survival Pak™ PLUS, but is now available from any CRKT dealer.
If you are looking for a slightly larger, but still compact skeletonized fixed blade, the Becker Knife & Tool BK-14 Eskabar, an Ethan Becker and ESSE Knives collaboration, is a great choice, or the ESEE IZULA is available in a multitude of colors including don't-lose-me orange and Zombie venom green.
Get Rescued™ NOW!
Nobody goes out intending to end up needing rescue. By the same token, anyone who goes into the outdoors, on land or sea, or who flies by general aviation, and who expects that it can't happen to them is simply in denial. Stuff happens that you cannot control, no matter how good or talented you may be. Once you get over the can't-happen-to-me syndrome, the next question is what to do about this? The answer is simple, ensure that when it does happen you get rescued in the shortest possible time, because time is often your enemy. There is no excuse today for not carrying some means of signaling distress with your location.
For well under $300 you can get a 406 MHz Personal locator Beacon (PLB) with integral GPS that is about the size of many cell phones, weighs less than 5 ounces and easily fits in your pocket. With a simple press of a button your distress alert is sent out through the international COSPAS-SARSAT distress satellites and help will be quickly on its way. There is no recurring charge or subscription and the battery has a replacement interval of 6 years (by which time it will be smaller and cheaper, so you won't replace the battery anyway).
Essentially, with a PLB you can ensure that you will get rescued with minimal fuss, much less risk on the part of Search and Rescue and far less concern on the part of your loved ones. The PLB takes the "search" out of Search and Rescue. Anyone who ventures into the outdoors without a PLB or some means of communicating their distress (and a cell phone doesn't count) is irresponsible and not the brightest bulb on the tree, in my opinion.
My current recommendation for a PLB, and the one that I carry, is the ACR ResQLink Model PLB 375. If you don't have a PLB, or if yours is over three or four years old, just get one!
As an aside, carrying a PLB doesn't mean you don't have to carry essential survival equipment (see above). Weather and other issues can delay rescue. You still have to be prepared to survive at least overnight and perhaps longer in more extreme environments.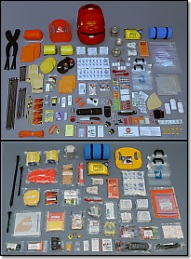 Saving the best for last, I offer up the Doug Ritter Ultimate Survival Pak™. Originally developed for pilots, this survival kit also become popular for those who want the very best while traveling, living in an earthquake zone or who reside where severe weather is a regular occurrence. The Ultimate Survival Pak™ is designed for two people and includes all essentials for 72 hours. Options are available to expand coverage to three or more persons. I build Doug Ritter Survival Paks like my life depended upon it…because your life might™.
"I wanted to very best for my family and that's what I found in your Ultimate Survival Pak. It provides great peace of mind knowing that I've got everyone covered with the best I can possibly have onboard." C. H., Long Island, NY
Remember, a portion of the proceeds from the sale of Doug Ritter Gear supports the non-profit Equipped To Survive Foundation and this web site.
Wishing you the very best for the holidays and the coming new year.